Star Style or Star Stale?
I am all for girlie and chic, but this just looks like Ex-Pussycat Dolls singer Kimberly Wyatt left the house in her night clothes. The bag is too matchy matchy. and her shoes are boring. I think she needs to get a fashion upgrade STAT!!
Now this is a really sexy dress that Stacey Kiebler has on, only problem is, is that she is wearing it wrong. The part that is rising up her neck should be on her shoulder. But we will give her a pass due to the fact that her body is on point for a dress like this. Those shoes however need to be drowned in a river somewhere. I don't care WHO made them... probably those YSL tributes.. Here... wear these shoes by LaRare with that dress Stacey...The chocolate will set that charcoal grey dress off just right!
Kim Kardashian as beautiful as she, is annoys me to hell sometimes. She is given NATURALLY, beauty that some dream of having, and this broad goes out and gets injections in her face. WOW. Now she is beginning to look like a old lady using her hair to hide the cuts by her hairline where they are pulling the skin like an African drum. The dress, blah... she should have just worn the purse.
LEAVE YOUR FACE ALONE. DAMN.
NOT ONE DAMN COMPLAINT HERE.
What in the HOT HELL is this mess here? Nicola Roberts is on something strong and illegal if she thought this outfit and that hair was a go. She look like a wet veinna sausage walking around in shoes. Fire her stylist if she has one, or hire one if she doesn't. When your real hair looks like a wig snatched off the head of Jan Crouch, you need to again get to firing folks. Namely your hairstylist. Most of all DON'T GET YOUR MAKEUP DONE BY A MORTICIAN.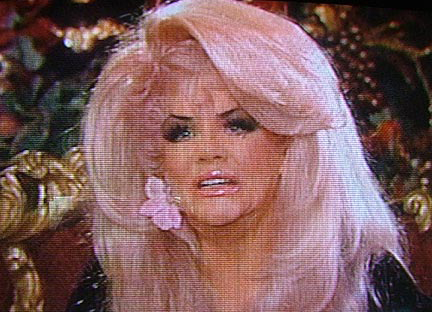 That is all I have for now. I will try to be nicer next time, but this is just not the business. It makes no sense to HAVE money and people can't tell. Looking a mess is not what is 2010 when you are a celebrity. You have no excuse.